Now, don't you sniff around
For something fluffy and light
I need a man who brings
A man-size... Appetite ... from Hairspray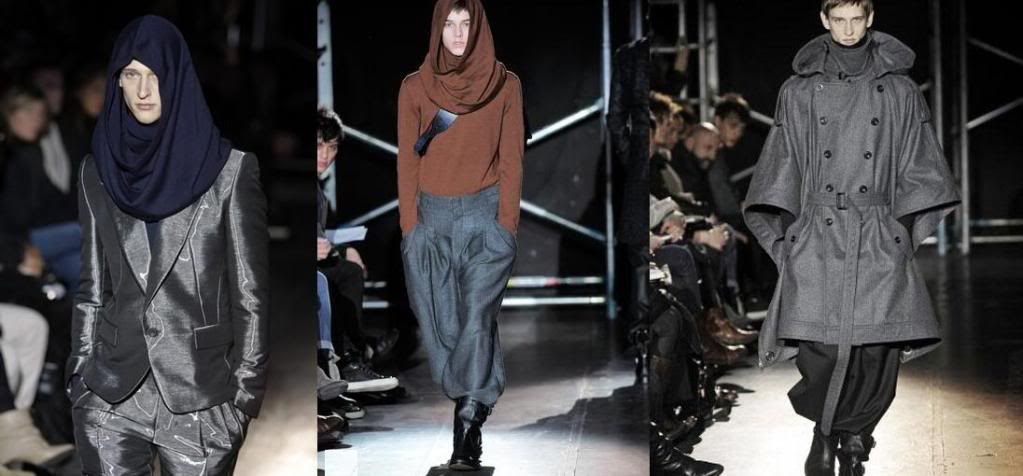 Our continued obsession with volume and size, can be seen from the ever controversial size zero debate and to the rise of oversized clothing for men. This obsession for oversized clothing could be due to the need of warmth and cover for winter. Or maybe men are concerned with hiding imperfections, much like their female counterparts. Whatever the reason, fashion has seen this need and designers are constructing for that demand. Juun J, a Korean designer has built parts of his collection for A/W 2009 on this concept. Giving it a technical, retro, Japanese edge combined with a European sensibility. His interpretations on winter classics such as trench coats and blazers are designed with a feminine sleek silhouette for men. Trench coats are widened and heightened giving them volume and designed in variation of colours from navy blue to grey. They convey a sober and calm tone, the trench coats were also designed as ponchos, but he refined the Ugly Betty silhouette as they were double breasted. Jackets looked as if they were dipped in the ocean and left dripping for you to wear. The wet look was enhanced with a glossy and patent feel. Jackets came in a myriad of silhouettes from oversided poncho-esque glossy blue puffer jackets to shiny windbreakers. Necklines and collars were elongated and the turtle neck was added to jackets, coats and jumpers. Shirts also were sewed together with scarves that could be used as hoodies or resembling the construction of the Middle Eastern Abaya. His creation of trousers involved making them high- waisted with a cumber band structure; they were baggy and tailored with relaxed pleats. Juun J also cinches the waist with his trademark use of belts. I admire his colour palette; the colours are sombre opting for brown, grey, black, military green and bronze with a matte finish. This mix evokes an Andrex softness that is playful and cool. Juun began his career in fashion after carrying out his military service, which is obligatory for South Korean men. This very apparent in his collection, incorporated with his love of street futurism and a bit of origami. I am in awe of his collection and admire his versatility and combinations of classics such as plaid shirts with a 21 century cut. His work can be simply put as defined and elaborate.